Biography
Edgar Alwin Payne (1883-1947) is often cited as an example of the quintessential Early California painter. One of the most prolific of the Early California Impressionists, and a perennial cornerstone the movement's private market, Payne's landscapes, coastals, and harbors are immediately recognizable for their bold, energetic brushwork, and his characteristic warm-hued earth tone palette.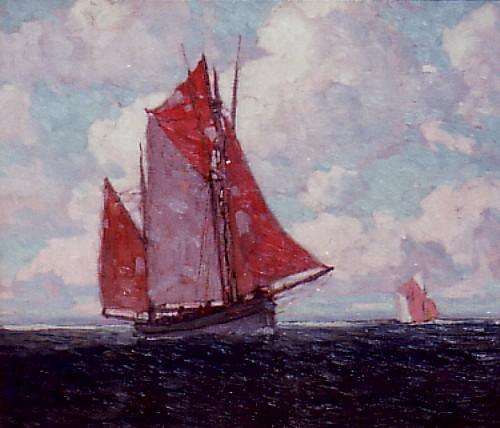 "Tuna Boats"
Oil on canvas, 24 x 28 inches
SOLD

Edgar Payne was born in Washburn, Missouri in 1883. By the age of fourteen, he had left home to pursue a career in the arts, which would become his life's all-consuming passion. For the next decade, he traveled the country, moving from city to city earning a living as a painter of portraits, houses, signs, and theater sets and anything to pay the bills and sharpen his artistic skills before ultimately settling in Chicago in the first decade of the 20th century.
After a brief stint at the Art Institute of Chicago, Payne traveled to California where he met and married fellow artist Elsie Palmer (1882-1971) in 1918. The two settled in Laguna Beach, where Payne founded the Laguna Beach Art Association, becoming its first president. The pair spent the next several years painting landscapes of Southern California and America's Great Southwest, before embarking on a painting tour of Europe in 1922, the source of many of Payne's most idyllic harbor and boat paintings.

Today, Payne's work is held in the collections of the Chicago Art Museum, the Indianapolis Museum of Art, Laguna Art Museum, the Edgar Payne Gallery, the National Academy of Design Collection, the National Collection of Fine Arts, Senate Building (Washington D.C.), Pasadena Museum of California Art, Southwest Museum of Los Angeles, and The Crocker Art Museum, among many others.